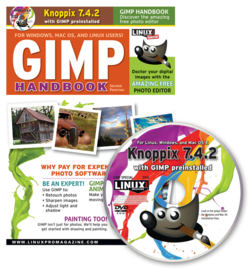 To add to the distros I have already reviewed in terms of their suitability for running on the Hewlett-Packard TX2 or TM2 tablets, I had not said anything about the Knoppix distribution specifically. I saw one sold in a special edition of Linux Pro Magazine, and in a fit of irrational impulse purchasing, ponied up my 20 bucks with tax, and tried it on my laptop.
Linux Pro Magazine was using the Knoppix CD to actually showcase GIMP, but with pretty close to the most recent versions of GIMP installed on all my windows and Linux installations (I do run a blog after all), I do not need to be sold on GIMP. It's a great free open-source package for editing and manipulating photos, in the way of Photoshop. It would have been nice if they could have an article on how to write your own scripts for the script-fu feature in GIMP. This ever elusive and mysterious feature remains largely shrouded in secrecy except for the few websites to post a page or so on it.
But I wanted to see how the latest Knoppix ran on my laptop. Indeed, version 7.4.2 of Knoppix is the latest version, according to the website. Knoppix is the Linux distribution that is known for having a live operating system on it, so if you want to try Knoppix, there is no installation needed. My HP TM2, in the grand tradition of "modern" computers having fewer and fewer media inputs than ever before, comes without a built-in DVD-R drive. So, I plugged a USB2 one in (the TX2 has no USB3 inputs, not that it would matter for a DVD-R anyway) and booted into Knoppix.
And I was pleasantly surprised to find that just about everything seemed to work. It recognized my wi-fi, and I found I could use pen, mouse, and screen touch without any lag. I was able to see and hear videos on YouTube. And of course, GIMP ran. On a live DVD, GIMP took about 40 seconds to start (starting from an installation on my hard disk on my PC took under 5 seconds in Ubuntu Studio).
Back to Knoppix. As expected, the screen rotation key is not mapped. However, I can see no Linux program that does this. Postings to many fora on the topic go unanswered. There was one discussion on rotation with the Nvidia chipset, but the TM2 uses Intel for video, so I was out of luck. Since I need to rotate the screen frequently in my work, this has been the one limitation that has stopped me from using Linux on my laptops.